Diabetes Testing Kit/Blood Glucose Sugar Test Kit with Code-free Strips & Case in mmol/L or mg/dL
🎁 Blood Glucose Testing Kit: This kit covers crovatt blood glucose monitor Safe-Accu & Strips & Lancets & Painfree lancing device & Case & User manual. A set of equipment is provided to meet all your needs when measuring blood sugar.
🎁 High-cost Performance: A affordable, low price, full-featured, suitable device for long-term use.
🎁 Precise & Easy to Use: Code-free test strips, only 10s testing time, 0.6 microliters blood sample volume. The test strips have advanced technology and stability. Results are given in the UK standard measurement of mmol/L.
🎁 Convenient: This product has the advantages of exquisite and lightweight. Easy to carry anywhere. It allows you to easily test your blood sugar while you are on a business trip or traveling.
🎁 Large Memory Capacity: The memory capacity reaches 200, which can display the data average of 7 days, 14 days, and 28 days. You can easily access historical data at any time.
      Kindly pay attention:
please use the crovatt blood sugar test strips within the valid time (six months after opening).

Don't store the blood glucose kit where it's too hot or too cold.

Keeping your fingers clean, wipe the first drop of blood away with a clean tissue, test with the second drop of blood, which is less likely to be contaminated when using the testing kit.

Results from alternative sites don't reflect your current blood glucose level.

Adjust the depth of your lancing device according to your skin thickness when testing blood sugar.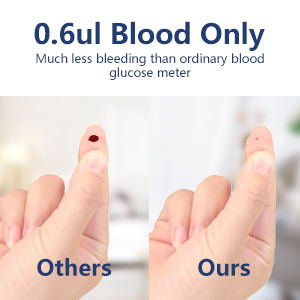 0.6 micro liters
When you use our blood glucose test kit to take a blood glucose home test, you only need 0.6 micro liters blood to relieve your pain.
Deigned-friendly
The clear large screen design is convenient for the elderly to read their own measurement values after blood testing.
The strip ejection button can ensure that you are not infected by the blood sugar monitor strip.
Fast and Convenient

This blood glucose monitor can quickly get a value within 5 seconds without coding.
Each measurement value will be recorded according to the current specific time, which is convenient for you to track.
 Specifications: 
| | | | |
| --- | --- | --- | --- |
| Brand Name | CROVATT | Origin | China |
| Item Type | Blood Glucose | Material | Medical PVC |
| Model Number | Safe-Accu | Size | 161 x 112 x 50 mm |
| Item Name | Blood Glucose Meter | Blood Volume | 0.6ul |
| Test Strips Packing | Separated Packing | Test Time | 10s |
| Measurement Unit | mg/dL & mmol/L | Test Range | 1.1-33.3mmol/L |
| Memory | 200 Set with Date & Time |   |   |
Package Included:
10 Kit (mg/dL or mmol/L)
1 x Lancing Device
1 x Glucometer-mg/dL (No Battery) OR
1 x Glucometer-mmol/L (No Battery)
1 x PU Bag
10 x Bottled Test Strips
10 x Lancets
1 x Manual
50 Kit (mg/dL or mmol/L)
1 x Lancing Device
1 x Glucometer-mg/dL (No Battery) OR
1 x Glucometer-mmol/L (No Battery)
1 x PU Bag
50 x Bottled Test Strips
50 x Lancets
1 x Manual
100 Kit (mg/dL or mmol/L)
1 x Lancing Device
1 x Glucometer-mg/dL (No Battery) OR
1 x Glucometer-mmol/L (No Battery)
1 x PU Bag
100 x Bottled Test Strips
100 x Lancets
1 x Manual
25 test strips
25 x Separated Test Strips
25 x Lancets
50 test strips
50 x Bottled Test Strips
50 x Lancets
100 test strips
100 x Bottled Test Strips
100 x Lancets