Diabetic Shoes For Swollen Feet.
Because with

bad shoes

, each step gets more

painful

.
THESE SHOES ARE 

STYLED\ FOR YOUR

WIDE

 

OR

 

SWOLLEN FEET

 

LIKE A 

COOL FRESH AIR 

IN A HOT SUMMER'S DAY!!!
WIDE WIDTH
The wide toe box offers a comfortable, non-binding fit, and eases pressure on sensitive feet. Stretch breathable mesh upper expand with your foot when you walk, perfect for all seasons and outdoor activities. More comfortable closely fit to help you reduce irritation.
EXTRA DEPTH
Extra depth design with 3 pairs removable memory foam insoles provides ample space for custom made orthotics. These comfortable paddings provide moderate control and support and protection for swollen feet, offering the best solution and customized fit for problem feet.
EASY TO PUT ON & OFF
Forefoot straps are highly adjustable thanks to velcro closures, the range of adjustment is ideal for changes in the degree of swelling. Wearing the lightweight diabetic shoe can help alleviate pressure on swollen feet, bunions, lymphedema, diabetes or hammer toes.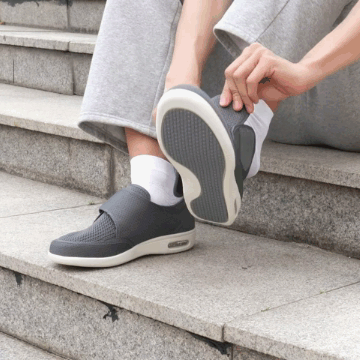 BREATHABLE & LIGHTWEIGHT MATERIAL
Stretchable, breathable and lightweight upper keeps feet cool and dry. Smooth and breathable interior lining offers a great in-shoe feel. Soft foam padded tongue and collar. Protective firm heel counter enhances stability and extra support for making more efficient walking. Simply the most unique extra wide orthopedic walking/nursing shoes for women on the market.
FLEXIBLE & NON SLIP SOLE
Highly durable and flexible rubber outsole and lightweight midsole. EVA molded midsole and TPU Air cushion system absorbs impacting shock and increases rebound, promotes a smoother transition to midstance and give an energetic feeling. Outsole bottom treads with extra grip offer superior slip resistance.

Correct Poor Posture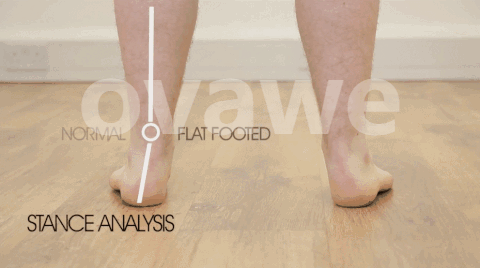 SIZE CHART
NOTE: PLease, refer only to your foot measurements to choose your size. It may differ from your normal size.
Love these shoes
I got these shoes for my dad and he loves them and all his therapy people ask what brand are they. He get compliments on these shoes all the time
Crovatt Diabetic Shoes are an answer to prayer
I have been searching for a decent pair of shoes for my 90 year old dad who suffers from edema. It's been such a struggle getting his shoes on and off even with a shoe horn. I did find an inexpensive pair of George fabric shoes from Walmart that he's been wearing outside. They worked because they stretched. They are getting worn so I tried these shoes. He normally wears a 12 but with his swollen feet I got the 13/13 1/2 wide and they fit perfect. He was able to get the left shoe on right away, although I did have to help him with the right which is much more swollen. He'll have to use his shoe horn but that's fine. They still went on easier than his other shoes. The shoes are very well made and look very nice on him. The gel cushion in the heel is very comfortable for him and they are not a very high profile in the front. This is important for us because he would sometimes catch the front part on carpet if he wasn't careful because the sole was too bulky. I looked through most all the reviews of extra wide shoes and many had terrible reviews especially on durability. I will update if necessary to report any issues. As of right now, I do recommend them Blessings!