3d Vortex Illusion Rug, Carpet Optical Illusion Floor & Black Hole Rug
This amazing optical illusion vortex rug will add instant whimsy and ambiance to any room in your humble abode. The clever design of this unique rug gives it an incredible three-dimensional feel that is guaranteed to trick your eyes.
Are you brave enough to cross the mind-bending Vortex Illusion Hole? 🤯🤯

🖤Novel Optical Illusion Design. These rugs create timeless and mind-bending pattern that tricks every brain, making it seem as if there is an actual vortex hole in the ground. Give your visitors a mind-blowing optical illusion upon entering your home with this 3D Optical Illusion Rug!.
🖤Works From Any Angle. You don't have to worry about the mat only seeming 'cool' from just a particular angle. No matter, where you're standing, the vortex looks absolutely realistic!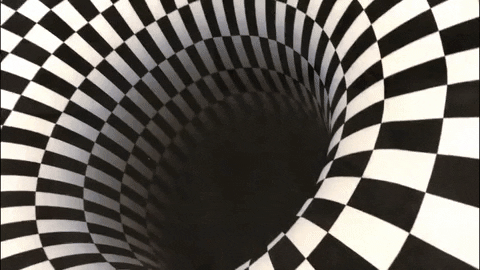 The Vortex Illusion Rug will elicit some bizarre reactions. This handcrafted artisan mat will add a splash of color to any room, whether at home or at work. Walk across the carpet with a "wow..."!
Priceless Impression On Guests:
Vortex Illusion Rug creates the illusion of falling into a black hole with its black and white plaid design. Don't overlook your visitor's first impression. You will undoubtedly leave an indelible impression on the visitors.
🖤Premium Quality. Our 3D Vortex Illusion Rug is strong and durable.
Polyester fiber material:

 

Hard-wearing, stain-resistant & long-lasting

High-density space elastic cotton inter layer: Absorbs water, soft to touch, fluffy, delicate & do not fade
High-density memory sponge: Effectively alleviate feet pressure
Anti-skid spots: Non-stick, no yellowing & durable
🖤Eye-catching Home Décor. The rugs have a very discerning taste and distinctive looks, which will set your hone apart from the rest, ideal to uplift the ambience of your house. Adding interesting element to your boring living room, lounge, bedroom or any others in your house.
No more tired feet:
Get an extremely soft feel to reduce foot fatigue during long office hours—encrypted fluff to keep it from falling off.
Decorate The Room With Elegance:
The mat does not appear fantastic from just one angle; rather, it appears realistic from any angle. Make your room look elegant with this out-of-the-box decorative rug.
Easy Cleaning:
🖤Easy to Maintain. The rug itself is made of 100% Soft Polyester that is water-resistant & machine washable. You can use a vacuum cleaner for daily cleaning, or simply add some mild detergent, gently clean with your hands and put the rug in a well-ventilated place to dry. 
Clean the vortex rug once in a week. Feel free to use a vacuum cleaner or wipe with a dry cloth—the mat made of 100% Soft and water-resistant Polyester.
High Quality:
Our soft carpet has an extra anti-Slip layer on the back that help hold in place on wooden or other materials floor, And hold up even with kids and pets. This fluffy carpet is a great decor for the kids bedroom, Nursery, Classroom and dorm.
Thank you for fast delivery came less than ten days to Israel I'm very pleased thank you seller is recommended five stars thanks for everything
It is a repeat purchase.
There is not much 3d effect with the naked eye, but it is 3d in the photograph. But the dog wasn't fooled.
Eh, small, it was necessary to order 100cm, ideally need 100cm,, immediately did not measure, ordered to the touch, so to speak. The quality of the norms, from the back of the rubber navel so as not to slip.