Portable Electric Heater Plug In Wall Heater
Low wattage space heater: 350 watts, 120 volts, 2.9 amps, 60Hz, Convenient 180 rotating plug with 3 prongs. Push the button under the plug to adjust the rotating degree. A low-wattage heater is more economical than running a higher-wattage space heater and will not overload the circuit. An excellent choice for people who live in a mild climate

With led display and timer: Press the " Timer " button allows you to scroll through 1 and 12 hours in 1-hour increments. For auto power on a timer, ensure the heater is turned off, and press the " Timer " button until the led display shows the number of hours you want. For auto shut-off timer, ensure the heater is turned on, and keep pressing the " Timer " button till it reaches your desired time

Quiet and fast heating: Extremely quiet to heat up 100 square feet of the room well. It is for smaller places like offices or dorm rooms and desk tables indoors. Use it at home when you don't want to heat up the house with other centralized heaters. It's very quiet so it won't keep you awake at night
Digital thermostat: 
Unlike most space heaters just have options for low medium and high, this gives you actual degrees—the ability to be adjusted by the desired temperature from 60°F to 90°F. Set the thermostat to your desired temp and it turns itself on and off to maintain that temp. The outer surface stays cool

As seen on the tv: the 4.3 x 2.8 x 6.5-inch compact size makes it easy to carry it around wherever I want without any wires. The ETL listed plug-in heater mounts right on the receptacle and it doesn't take up floor space or have a cord laying on the floor to trip on. The modern look makes it blend well in a living room or bedroom or other areas of the house since it's not a big eyesore like a space heater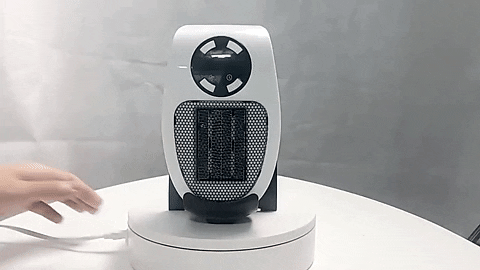 Your Personal Space Deserves Delightful Warmth and Comfort

Amazingly Easy to Use
    1. Plug in to wall socket.
    2. Move switch to "On" position.
    3. Adjust desired temperature using "+" and "-" marked buttons.
    4. Set timer by pushing button until timer reflects time desired.
WALL OUTLET ELECTRIC HEATER WITH ADJUSTABLE THERMOSTAT AND TIMER FOR HOME
1. Low-wattage and Energy-saving Space Heater
2. Quick Heating in 3 Seconds
3. Clear LED Display
4. Built-in 1-12 Hour Timer
5. Overheat Protection
6. 180° Rotating Plug
7. Small and Portable to Heat up 50 Square Feet
8. Quiet to Use for Sleeping Soundly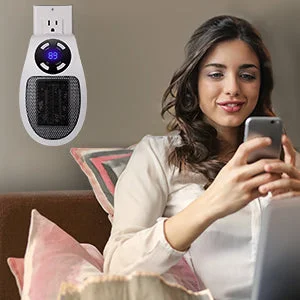 Hi Good afternoon the heater arrived spoiled only works a fan speed and smells a lot of burning
Good small heater. Very fast delivery.